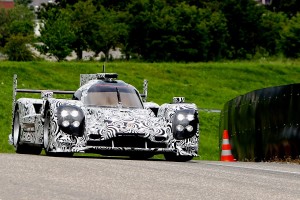 Porsche starts with four cars in the World Endurance Championship (WEC) and the 24 hours of Le Mans. Today, Thursday, the Le Mans organiser, the Automobile Club de l'Ouest (ACO) in Paris, announced the list of competitors selected to participate in the 82nd edition of the classic long-distance race on June 14th and 15th, 2014. Porsche has registered its new works team for the two 919 Hybrid cars as "Porsche Team" in the top category of Le Mans prototypes (LMP1). The start numbers for the innovative hybrid sports cars are 14 and 20. The works team for the two 911 RSR entries in the GTE Pro class is called "Porsche Team Manthey". Last year's double-winners will start again this year with numbers 91 and 92.
Bernhard and Dumas split forces
Porsche works drivers Timo Bernhard (start number 20) and Romain Dumas (start number 14) are each assigned to one of the two Le Mans prototypes in the WEC. This series comprises eight races, including the 24 hours of Le Mans. As a result each of the two 919 Hybrid cars will be piloted by a Le Mans overall winner: Bernhard (Germany, 33) and Dumas (France, 36) both achieved this success with Audi in 2010. There is still no final decision on which of the four other LMP1 Porsche works drivers will take turns at the wheel during the 2014 FIA World Endurance Championship – Brendon Hartley (New Zealand, 24), Neel Jani (Switzerland, 30), Marc Lieb (Germany, 33) and Mark Webber (Australia, 37).
Team Principal Andreas Seidl explained in Paris: "It was an obvious choice to split these two pilots to the two cars because of their special long-distance and Le Mans experience. The confirmation of our entry is another milestone on our road to Le Mans. We are all excited to meet our competitors for the first time at the official test at Paul Ricard at the end of March and of course at the WEC season kick-off at Silverstone in April."
The 919 Hybrid was developed to meet the new efficiency regulations for the top category of Le Mans prototypes. The 919 Hybrid has a highly complex hybrid drive system comprising a small-capacity supercharged V4 combustion engine, an electric motor driving the front wheels and two energy recovery systems.
Porsche wants to defend its GT double win
In the GTE Pro category, Porsche is again putting forward the Porsche Team Manthey with two 911 RSR cars against the works teams of Aston Martin, Corvette, Ferrari and SRT Viper. Many details on the GT sports car from Weissach were revamped for the last race in the 2013 season. The modified aerodynamics of the front end, a wider rear wing and adapted chassis kinematics ensure enhanced balance and improved controllability at its handling limits. "In the 2013 season, the 911 RSR gave impressive proof of its long-distance capabilities by its double victory at Le Mans," said Head of Porsche Motorsport Hartmut Kristen. "At the 24 hour race in Daytona, we again celebrated a win in a classic long-distance race with the revised version of the 911 RSR – this is certainly a good omen for Le Mans 2014."