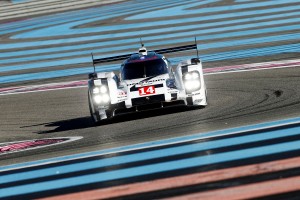 The Porsche Team enjoyed two intensive days of testing with the newly developed 919 Hybrid, entered in the top class of Le Mans Prototypes, during the official Prologue of the FIA World Endurance Championship (WEC) at Paul Ricard. It was the first time the Porsche Team had shared a test with the whole WEC field and was able to get a first impression about the differences in speed between the various classes. On the 5.791 kilometre long track the difference between the overall fastest lap of the LMP1 car (1:41.289 minutes, Porsche 919 Hybrid, Brendon Hartley) and the slowest GT car was around 20 seconds. The team had another first a few days earlier on the same track when it took part in a private test with two cars.
In total both driver line-ups – Romain Dumas/Neel Jani/Marc Lieb (car no. 14) and Timo Bernhard/Brendon Hartley/Mark Webber (car no. 20) – completed 614 laps (3,556 kilometres) on Friday and Saturday. They practiced countless driver changes and worked together with the Porsche Team's engineers to further improve the car's set-up.
Team principal Andreas Seidl: "The Prologue was an excellently run test by the WEC organisation and we were able to complete our programme. After concentrating on long distance racing during our private test, when we covered two six hour race distances, we have now also tested our qualifying performance. We made good progress in all areas – be it team-work, performance or reliability. But we know very well that we cannot catch up overnight with the advantage our competition has in terms of experience, and we have quite a lot of homework to do before the season's opening race on 20th April in Silverstone."
Off the track another important point has been clarified. The Porsche 919 Hybrid has finally been homologated for the six megajoule class. This classification defines the amount of recuperated electrical power which can be boosted per lap. At the same time, the megajoule class defines the amount of fuel which can be used per lap.
Alexander Hitzinger, Technical Director LMP1: "To decide on the best megajoule class requires a complex calculation. To put it simply, you can say we have designed our energy recovery systems as big and heavy as the overall car concept allowed. With the amount of energy we can recuperate this way, we fit well into the six megajoule class."
Matthias Müller, Chairman of the Executive Board of Porsche AG, as well as Wolfgang Hatz, Member of the Executive Board Research and Development, gathered first hand information about the project's progress at the track from Fritz Enzinger, Vice President LMP1.
Drivers' quotes
Romain Dumas (no. 14): "We made huge progress. In my opinion, the Prologue was even better than we ourselves expected it to be beforehand. But the expectations from the outside world are enormous. It is impressive how we have been welcomed here. But we keep focussing on the next target: to finish the 6 Hours of Silverstone."
Neel Jani (no. 14): "Our development speed was as strong as the mistral wind on the long straights here at Paul Ricard. Overall our results are fine. We were able to solve problems and to discover new ones, which will be looked at now. The partnership with Romain and Marc fits. In terms of set-up, we work in the same direction."
Marc Lieb (no. 14): "In every regard it was a good test for the whole team. And it was also very important to gain first hand experience of the speed differences between the cars. In Silverstone this will be much more intensive: Paul Ricard is quite a long race track and during testing not all of the cars are running at the same time."
Timo Bernhard (no. 20): "To me this was the most important test of all. Certainly if I compare the state of the car now to the roll out last June, but more importantly regarding the team spirit and how we work together. Not least of all what you can tell from the test results is very good news for the fans, as all three LMP1 cars are so close together."
Brendon Hartley (no. 20): "Operating as a Porsche works driver for the first time and in the top class of Le Mans Prototypes was an impressive experience. Having topped the time sheets is certainly not the most important thing in our test programme, but personally for me it is the icing on the cake."
Mark Webber (no. 20): "This test here was a big milestone. To enter two cars for the first time was a tremendous amount of hard work for the crew on the operational side. Smooth running was a well-deserved award and a good tonic for the guys after a long week. Every day we run we find more areas to improve, which is very encouraging. The track lay-out at Paul Ricard seems to suit our car very well. I'm curious to find out how we can perform in Silverstone."