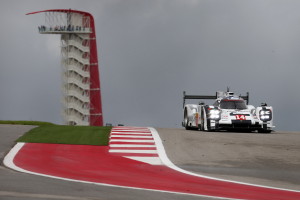 The two Porsche Team 919 Hybrid cars will start from second and third on the grid for tomorrow's six-hour race at the Circuit of the Americas in Austin, Texas (USA). Neel Jani (Switzerland) and Romain Dumas (France) shared driving duties in the number 14 car, and with an average of their four fastest laps – the two fastest laps of each of them count – a lap time of 1:50.283 minutes resulted in second. Team-mates Brendon Hartley (New Zealand) and Mark Webber (Australia) qualified third with car number 20. Their average lap time was 1:50.302 minutes. It was a dry and positive session for the Porsche Team ahead of the fourth round of the FIA World Endurance Championship.
The six-hour race will get underway on Saturday at 5pm, more than half the distance will be completed in the dark. One lap at COTA is 5.513 kilometres. According to the regulations, the Porsche 919 Hybrid can use a maximum of 3.76 MJ recuperated energy and max 2.8 litres of fuel per lap at this track. In normal race mode (without a safety car) the car needs to be refuelled every 31 laps. However, the weather forecast predicts a hot day with ambient temperatures well over 30 degrees and thunderstorms for Saturday's race, which might spoil the strategies, but result in extra excitement.
The third free practice session in the morning had also taken place in dry conditions. The crew of car number 14 came fourth (1:50.976 min, 29 laps), while car number 20 was sixth on the time sheets (1:51.828 minutes, 27 laps).
Quotes:
Fritz Enzinger, Vice President LMP1: "I'm very happy that we were able to turn our positive results from testing into a good qualifying result. If we also manage this in the race, everything will go in the right direction. Having normal track conditions in qualifying was important for us, as we desperately need to gather data. We shouldn't forget, it's only our fourth WEC race, and obviously we had no experience of the Austin circuit."
Andreas Seidl, Team Principal: "After the practice sessions were partially difficult, we have changed the set up on both cars. It hadn't been clear to us how much of an impact this would make, as we couldn't try it before qualifying. Our qualifying performance today then proved that we are able to further exploit the 919 Hybrid's potential. Also the crews and our drivers from the two cars again did an excellent job. We are really pleased with second and third on the grid. However, looking at the competitions' speed on long runs during the practice sessions, we have a great deal of respect for them before the race."
Drivers car no. 14
Romain Dumas (36, France):
"Starting from the front row is a really nice surprise, and I didn't expect that today. The result proves that our development work has paid off. Despite some understeer, I'm quite positive. Now we have to keep working this way and see what we can achieve in the race."
Neel Jani (30, Switzerland):
"Before qualifying I didn't think we would be that fast today. But right on lap one I found a lot of grip. On my second lap I was blocked and had to lift off, which actually cost about three seconds and meant I had to do a third lap. Romain did a super job too and front row is a great result for us. I think the long run of more than 20 laps I did this morning has really helped us to improve the car's set-up."
Marc Lieb (34, Germany):
"For the best possible qualifying preparation, it made sense today that Romain and Neel also shared driving duties in the morning session. So, no driving for me today but for a good reason."
Drivers car no. 20
Timo Bernhard (33, Germany):
"I was only driving this morning in free practice three when I did a long run for the race set-up. We are still suffering a bit from understeer, but getting the data and analysing it is important for us."
Brendon Hartley (24, New Zealand):
"Starting from the second row is not perfect, but good for us. I had some clean running in the morning, which was good, and I expected qualifying to become a bit difficult. I'm very much looking forward to the race. We did a lot of work in testing and now we have to put everything together."
Mark Webber (38, Australia):
"It was a good team effort to put the cars second and third on the grid. Due to changing weather conditions, it was a compromised weekend in terms of set-up for everyone. In qualifying the conditions were extremely favourable for us, as it was a little cooler, and we made the most of it. However, I regard qualifying as only 0.5 per cent of the job, the main task is the six-hour race tomorrow."