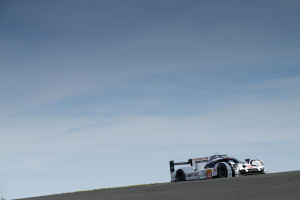 Large Porsche contingent in the USA: Just three weeks after the two Porsche 919 Hybrids and 911 RSR (GTE-Pro class) scored double victories at the Nürburgring, the FIA World Endurance Championship (WEC) now heads into the second half of the season on 19 September with round five of eight at Austin (Texas). Before the six-hour race takes off on Saturday at 17.00 hours local time and continues into the night, first on the programme is the penultimate round of the Tudor United SportsCar Championship TUSC, which starts in the heat of the day at 11.35 hours.
The 5.513-kilometre Circuit of the Americas on the periphery of the Austin city limits features a spectacular layout with many corners linking, rapidly changing gradients, and fast passages. Motorsport fans can look forward to some top-end endurance racing in the Texas capital at the Colorado River. A total of twelve factory drivers contest the WEC and the TUSC for the Porsche team (919 Hybrid, LMP1), the Porsche Team Manthey (911 RSR, GTE-Pro) and Porsche North America (911 RSR, GTLM).
Porsche Team, Porsche 919 Hybrid
In the 31-strong WEC field at Austin, Porsche campaigns a pair of 919 Hybrids in the top LMP1 category (Le Mans Prototype class); the trio of Timo Bernhard (DE), Brendon Hartley (NZ) and Mark Webber (AUS) crews the #17 vehicle, with Romain Dumas (FR), Neel Jani (CH) and Marc Lieb (DE) sharing driving duties in the number 18 car. The 919 serves as a racing research lab for future sports car technologies and is powered by a downsizing two-litre V4-cylinder turbocharged engine and an electric motor which is fed by two energy recovery systems (brake energy from the front axle and exhaust energy). Combined, the groundbreaking and unique power-train concept for WEC develops a system performance of around 1,000 hp. After clinching one-two at both the Le Mans 24 Hours and at the six-hour race on the Nürburgring, Porsche tackles the second half of the season as the leader of the manufacturers' classification.
Fritz Enzinger, Vice President LMP1: "The upcoming races at Austin, Fuji, Shanghai and Bahrain are decisive for the title. Porsche has set its sights on the manufacturers' crown, but the decision in the drivers' championship will be just as exciting. With only 17 and 19 points separating us from the currently-leading Audi trio, both of our driver crews are within striking distance. Last year's race on the COTA proved extremely tough for us. We hope that we're now in a position to fight for victory there, but we're not expecting the dominance we saw at the Nürburgring."