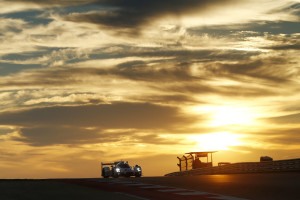 At the foot of Mount Fuji the 2015 FIA World Endurance Championship (WEC) enters its critical phase on October 11: The six-hour race on the famous high-speed circuit in the Japanese Alps is the sixth of eight championship rounds. Porsche has a clear target to pursue with the two 919 Hybrids: to extend its lead in the manufacturers' standings. Currently the sports car manufacturer from Stuttgart has 220 points to its tally, followed by Audi (184) and Toyota (101). In the drivers' championship an Audi trio is leading, but Porsche drivers Timo Bernhard (DE), Brendon Hartley (NZ) and Mark Webber (AU) have closed the gap to ten points by winning the last two races, held at the Nürburgring (DE) and in Austin (US). They have now 103 points, while their teammates Romain Dumas (FR), Neel Jani (CH) and Marc Lieb (DE) lie third in the rankings (77.5 points).
Featuring the longest straight on the calendar – 1,500 metres – but also 16 corners that are relatively tight on a lap of only 4.549 kilometers, the Fuji Speedway is extremely demanding when it comes to set-up work. Thirty one racing cars with 86 drivers from 19 different nations are divided into four classes in the WEC. The Porsche 919 Hybrid competes in the top LMP1 class (class one Le Mans Prototypes) and is a research laboratory for future sports car technology. It is powered by a downsizing two-litre V4-cylinder turbo charged petrol engine and an electric engine, which is fed by two energy recovery systems (brake energy from the front axle and exhaust energy). This unique and ground-breaking powertrain temporarily turns the 919 into a four-wheel drive car with a performance of around 1,000 hp.
Since the 919's debut back in 2014, it has won four races: Interlagos 2014, Le Mans, the Nürburgring and Austin in 2015. The car has entered 13 races in total and started from pole position nine times. To date, in 2015 no car other than a 919 has made it onto pole position, or for that matter the front row of the grid.
Last year in Fuji, the two Porsche 919s started from P2 and P3. In the race Bernhard/Hartley/Webber came third, despite a puncture early in the race. Back then this was the second podium finish for the 919. Mark Webber's fastest race lap of 1:27.759 minutes was the icing on the cake. Dumas/Jani/Lieb finished fourth.
Quotes before the race:
Fritz Enzinger, Vice President LMP1: "Our string of three victories in a row is impressive, as is the fact the Porsche 919 Hybrid has been dominating qualifying. However, the most recent race in Austin was a reminder of how fragile success can be with such a highly complex race car. We have to stay very focussed to extend the lead in the manufacturers' championship and gain ground in the drivers' standings."
Andreas Seidl, Team Principal: "It is difficult to tell in advance how competitive we may be in Fuji. Its long straight and the many corners on each lap place contradicting challenges on the car. Last week we have been testing in Monza, but there the focus was mainly on the 2016 car."
Alexander Hitzinger, Technical Director LMP1: "We can expect tighter racing than recently at the Nürburgring and in Austin, where we clearly had the fastest cars. In Fuji less downforce is required, and this should play into the hands of our competitors where the aerodynamic set-up is concerned. We will also adapt our aero to the lower downforce level."
Drivers Porsche 919 Hybrid no. 17:
Timo Bernhard (34, Germany): "The 2014 race was my first one in Japan and I have very fond memories to it, especially because of our podium finish which was great. I instantly really liked the country. The track's tarmac is rather slippery, and offers a huge variety of different characteristics with a long straight and tight corners. In the World Championship we now face the final stages, and we also want to catch Audi in the drivers' standings."
Brendon Hartley (25, New Zealand): "I had a fantastic first experience in Japan last year. I really enjoyed the circuit, there were many enthusiastic fans, and I had a very enjoyable few days in Tokyo after the race. Again we have high expectations for the race after our car has won the last two rounds, so we travel to Fuji quietly confident."
Mark Webber (39, Australia): "I always enjoyed driving at Fuji and love the setting with Mount Fuji in the background. Fuji is an iconic venue for sports car racing in Japan, and we had a great welcome last year with many Porsche fans cheering us on. I had a good battle with the Toyota at the start, in my first stint and, even though a puncture hurt our race, we still finished third and set the fastest lap of the race."
Drivers Porsche 919 Hybrid no. 18
Romain Dumas (37, France): "We have had bad luck for three races in a row now, because there were problems with our car in Le Mans, at the Nürburgring and in Austin. I just wish this string of bad luck ends and we can have a clean race in Fuji."
Neel Jani (31, Switzerland): "It is going to be my third race in Fuji. The long straight is a landmark of the ciruit and it will be interesting to see if the Audis – like in Austin – are faster there than we are. At this time of the year the weather can play an interesting role too in Fuji. When we manage to finally have a straight-forward race, the results will automatically be good. Like in qualifying, where we had three consecutive poles."
Marc Lieb (35, Germany): "The atmosphere in Fuji is amazing. The fans are passionate, but at the same time patient, friendly and polite. I have met really cool people there and I also like Tokyo a lot. I'm very much looking forward to travelling to Japan and racing on that very diverse circuit."