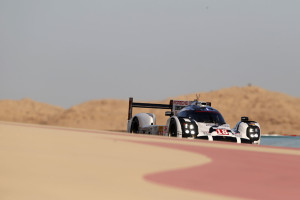 After Porsche secured its first manufacturers' world championship since 1986 on November 1 in Shanghai, the next target is to try and take the drivers' title at the FIA World Endurance Championship's finale on November 21 in Bahrain. Going into the eighth and final WEC round the Porsche works drivers Timo Bernhard (DE), Brendon Hartley (NZ) and Mark Webber (AUS) have 155 points to their tally and, therefore, a 12 point advantage over the Audi drivers Marcel Fässler (CH), André Lotterer (DE) and Benoît Tréluyer (FR). With a score of 113.5 points and no chance of taking the title, the second Porsche crew of Romain Dumas (FR), Neel Jani (CH) and Marc Lieb (DE) are in third.
The 5.412 kilometre long Formula One track in Sakhir will host the third WEC race of the year to be held partly in the dark – after Le Mans and Austin. The six-hour race will be green flagged at 15:00 hrs local time with the sun setting at 16:46 hrs. The heat and fine sand in the kingdom's desert create additional challenges.
In 2014 the race in Bahrain was the penultimate round of the championship and it was the first time that both Porsche's driving crews made it to the podium ceremony. Dumas/Jani/Lieb had started from pole position and finished second. While Bernhard/Hartley/Webber were third in both qualifying and the race.
Since the 919's debut back in April 2014, it has won six races. Five of the wins were achieved in 2015, four of them were one-two results, and these included the Le Mans 24 Hours. In all seven 2015 rounds to date no car other than a Porsche 919 Hybrid has made it onto the front row of the grid. The prototype is a research laboratory for future sports car technology. It is powered by a downsizing two-litre V4-cylinder turbo charged petrol engine and an electric engine, which is fed by two different energy recovery systems (brake energy from the front axle and exhaust energy). This unique and ground-breaking powertrain produces a system performance of around 1,000 hp.
Quotes before the race:
Fritz Enzinger, Vice President LMP1: "At the finale in Bahrain an unbelievable season will come to an end. We have been well rewarded for the 919 Hybrid's brave technical approach and for our hard work in building the team. Whether part of the race team or belonging to the team in Weissach, credit for this should go to everyone. We secured the manufacturers' title, which naturally is of the highest importance for Porsche, ahead of time. Now it is all about the drivers' title in the world championship. Even if Audi was able to manage a one-two, a third place finish would hand the title to Timo, Brendon and Mark. Looking at our previous successes, this perhaps doesn't sound too difficult to manage. But you should never underestimate everything that is unpredictable in a six-hour race in tight traffic with nonstop lapping manoeuvres. You are always driving on a knife edge. The period of the race when the setting sun is blinding, and two thirds of the distance run in darkness under floodlights are extra challenges to cope with."
Andreas Seidl, Team Principal: "At the recent rounds in Fuji and Shanghai, we have not just been pleased with the results, but we have also been really proud as a team that we managed tricky situations with the right calls under a lot of pressure. Because we are only in our second season, we are still facing totally new scenarios on a frequent basis. The target now for Bahrain is to claim the drivers' title as well, and to conclude the season with another race win."
Alexander Hitzinger, Technical Director: "The 919 Hybrid will race in Bahrain in the same specification as it has done at the previous race. The focus for our development has already moved totally to the 2016 car. In terms of performance, I expect the Audis to be closer to us again, which is down to the circuit's characteristics. We can all look forward to an exciting race."
Drivers Porsche 919 Hybrid number 17
Timo Bernhard (34, Germany): "The Bahrain circuit is a good one and, because the weather conditions are stable for most of the time, the sheer speed of the cars will be the most important aspect. In Fuji and Shanghai we have had changing conditions and, therefore, the strategy for the tyre choice and timing of the pit stops played an important role too. No matter what the competition does: whether we win the drivers' title or not depends on our own performance, and we will approach that race with the same focus as any other round."
Brendon Hartley (26, New Zealand): "With the manufacturers' championship all wrapped up there is only one thing on our mind, the drivers' world championship! Audi put up a big fight in Shanghai, but we executed a near perfect race to extend our championship lead to 12 points. It's all to play for in Bahrain, we go there full of confidence and will be on top of our game."
Mark Webber (39, Australia): "We've done a lot of work in Bahrain, as it's a test track so we know it pretty well. The weather is stable and sunny, which off the back of the wet races in Fuji and Shanghai is a bonus. However, the wind conditions play a major role in Bahrain in terms of your top speed and also your cornering performance. Our approach to the weekend won't change, as we always want to get the best possible result every time we race. Our target is to get pole position and have a smooth race."
Drivers Porsche 919 Hybrid number 18
Romain Dumas (37, France): "Hopefully we will have a nice final race of the season in Bahrain. A lot of pressure has gone from the team now after we secured the manufacturers' title in Shanghai. In Bahrain we will do our best to secure the drivers' championship for our teammates and, at the same time, we want to have successful race ourselves. In Shanghai we didn't have the speed of our sister car and I hope in Bahrain we are back up to our usual performance. It is a nice track with a bit of a tricky tiny middle sector, and I'm going there full of confidence."
Neel Jani (31, Switzerland): "The 919 has proven that it can be fast on every kind of circuit and, therefore, I don't worry too much about our performance. I hope for an exciting race and, of course, we three drivers from the number 18 car would love to score a race win. We have been close to it several times, but were a bit unlucky. It was, let's say, a bit of a character-building season for us. A race win would be a happy end to it."
Marc Lieb (35, Germany): "I enjoy racing into the night. Different to Le Mans, the Bahrain circuit is flood lit, but still it creates a really cool atmosphere. We have to face high temperatures but, thanks to strong development work, we should have the tyre wear under control. I am hoping for a perfect finish to what has been a super season for Porsche. The hundred per cent perfect ending would be if our sister car wins the title and we win the race."