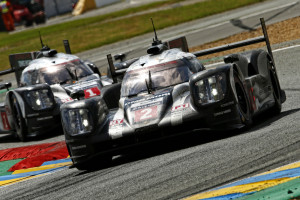 The thrilling fight for the win at Le Mans between Toyota and Porsche has gone on for hours, with the final stages of the 24-Hours race approaching. Until shortly before 11:00 hrs the number 2 Porsche 919 Hybrid with Marc Lieb (DE) at the wheel was leading, just now Toyota has gone back into P1 again. Lieb shares his 662 kW (900 PS) Le Mans prototype with Romain Dumas (FR) and Neel Jani (CH). The trio had started from pole position. After a lot of bravery, but many laps behind due to a long night stop for repairs, the number 1 sister car of Timo Bernhard (DE), Brendon Hartley (NZ) and Mark Webber (AU) ranks 23rd overall.
How the race has gone for Porsche since the early morning:
Lieb began his quadruple stint with the number 2 car at 03:38 hrs after 197 laps. In the fight for the lead he refuelled after 210 laps, lost some time when he had to come in early after 215 laps because of a puncture, refuelled again after 228 laps and handed the car over after 241 laps at 06:14 hrs to Dumas. The Frenchman jumped in for only ten laps and remained on Lieb's tyres. This strategy was related to driving time as well as to a yellow zone period. Jani took over after 251 laps at 06:50 hrs. This time of the day witnessed a lot of incidents on track and another safety car period. Jani refuelled after 265 laps. Due to tyre performance, he handed over the car that was leading every so often to Lieb again after 278 laps at 08:42 hrs. Lieb refuelled after 291, 304 and 317 laps.
The number 1 Porsche kept catching up after its long nightly break for repairs, which had dropped it 39 laps behind the leading cars. From 04:13 hrs on Webber took the early morning shift. He refuelled after 181 and 195 laps. After 208 laps and at 06:33 hrs Bernhard got behind the wheel again for a quadruple stint. He came in for fuel after 221, 235 and 248 laps. Hartley took over again on fresh slicks in what was bright sunshine after 259 laps at 09:49 hrs. He picked up fuel after 272 laps.
Timo Bernhard (35, Germany):
(9 races: overall victory 2010, overall second 2015, class victory GT 2002)
"At Porsche, we just never give up, that's for sure. Also we are still fighting for points for the manufacturers' world championship. We can go at the speed of the three leading cars and do a good race here, but we will not get a reasonable result from this. I'm very sorry for Mark, Brendon and the entire car-crew. This year is really hard for us, but we will come back. A Le Mans victory with Porsche is a must."
Mark Webber (39, Australia):
(4 participations: overall second in 2015, not racing in 1998 and 1999)
"My stints were okay with a good pace. We are obviously on a different mind set now, because driving round 39 laps behind is not the nicest feeling. But Le Mans 2016 means it is still hard work for the mechanics, for Timo and Brendon and everybody back in Weissach. We just want to make everybody proud by not giving up."
Romain Dumas (38, France):
(15 races: overall victory 2010, 3rd place overall 2007, 5th place overall 2015, class victory GTE 2013)
"I had a short ten-lap stint for which I had to use Marc's tyres. Because of his puncture he was in the car a very long time and you have to take care of driving time. It was a good driver change, we managed it during the refuelling time. Then we were in P2, but lost some time again when we had to change tyres and add oil at the next stop."
Neel Jani (32, Switzerland):
(7 races: qualifying record lap and 5th place overall 2015)
"My double stint in the morning wasn't really easy because of traffic and yellow zones. I think for the race strategists this battle for victory here is quite a challenge."
Marc Lieb (35, Germany):
(10 races: 5th place overall 2015, class victories GTE 2013, GT2 2010, GT 2005)
"At night I had a good drive. There were relatively few slow zones and the car felt excellent with the softer tyres. With one set, unfortunately, I had a puncture, which again cost time. But other than that, the night stint was good."