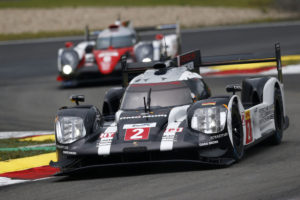 The next race for the Le Mans winning Porsche 919 Hybrid provides entirely new challenges. On September 3rd the FIA World Endurance Championship (WEC) will make its debut at Mexico City's Grand Prix circuit. The six-hour race at the multi-million population metropolis is the fifth of nine rounds of the 2016 WEC. The 4.303 kilometre long track lies 2,250 metres above sea level, which means thin air for men and machines. Furthermore, September is one of the rainiest months in the region. At the end of every lap at the "Autódromo Hermanos Rodríguez" the drivers arrive at a right-left-hander to dive into a baseball stadium that can accommodate 26,000 spectators – fiesta Mexicana on steep grandstands.
Having won in Silverstone, Le Mans and at the Nürburgring, the Porsche Team leads the manufacturers' world championship with 164 points ahead of Audi (129) and Toyota (97). In the drivers' world championship, the trio of Romain Dumas (FR), Neel Jani (CH) and Marc Lieb (DE) is leading. The Le Mans winners have 106 points to their tally, the second placed Audi trio has a total of 73 points. The Porsche sister car's crew of Timo Bernhard (DE), Brendon Hartley (NZ) and Mark Webber (AU) currently ranks eighth with a score of 28.5 points. The reigning World Champions were unlucky in the first three rounds, but struck back by winning the six-hour race at the Nürburgring in July.
Thirty-two cars are registered for the venue between the Sierra Nevada and the twin volcanoes of Popocatépetl and Iztaccíhuati. The field of prototypes and sports cars is divided into four classes. The Porsche 919 Hybrid belongs to the highest category of the class one Le Mans prototypes (LMP1). In the LMP2 class four Mexican drivers are competing: the brothers Ricardo and Roberto Gonzáles jr as well as Alfonso Diaz Guerra and Luis Diaz.
The 919 was developed in Weissach and produces a system power of over 900 HP (662 kW). Its combustion engine is a futuristic downsizing motor: the very compact two-litre V4 turbocharged petrol engine drives the rear axle with almost 500 PS (368 kW). Two different energy recovery systems – brake energy from the front and exhaust energy – feed a lithium ion battery that, on command, passes on the energy to an E machine to power the front axle with an extra boost of over 400 PS (294 kW). At the Nürburgring the new aerodynamic package for high downforce passed its baptism. It is the 919's third aero spec this season and, necessarily, its final one, because the regulations don't allow for more in the exercise of cost cutting. Nevertheless, there is always some freedom in set-up for different circuits and various climatic conditions. For safety, the rules also permit extra cooling in Mexico.
"The race in Mexico is a huge challenge for drivers as well as also in terms of technology and logistics," said Fritz Enzinger, Vice President LMP1. "But we're very pleased about having the new destination on the calendar. This circuit breathes motorsport history and the successes of the brothers Pedro and Ricardo Rodríguez, after whom the track is named, remains unforgotten at Porsche. It was outstanding when Pedro Rodríguez became sports car world champion with the 917 in 1970. For our team it's not long ago that every circuit was new territory to us, we're only in our third year. I have full faith in the team to manage the special tasks that come from the altitude and get a little closer to our goal of the title defence."
Team Principal Andreas Seidl added: "In the technical preparation for the Mexican race a chain of what is out of the ordinary comes into play. First the altitude. Compared to normally aspirated engines, our turbo charged engine loses less power, but cooling is an issue because of the thin air with less oxygen. This goes for the powertrain as well as for the brakes. Necessarily drag is a lot lower. This makes it difficult to provide the downforce you want in the corners, but on the 1.2 kilometre straight we will see high top speeds. The circuit has a high full throttle percentage and the grip level will increase significantly unless it rains, which is something to expect as well."
Quotes before the race:
Drivers Porsche 919 Hybrid number 1
Timo Bernhard (35, Germany): "If you drive a race track for the first time you can quickly learn its layout, but it takes a lot longer to really translate it into a perfect racing line. You need to learn quickly, because in practice three drivers share the car. To only begin to search for the limits in the race isn't an option because of the tight competition. I remember watching Mexican Formula One races in the early 90ies on TV. The crowd was always great. For Brendon, Mark and me winning at the Nürburgring was a big relief. We are far behind in the drivers' championship standings, but will focus on each single event now to collect as many points as possible to help Porsche to defend the manufacturers' title."
Brendon Hartley (26, New Zealand): "Car number 1 has been quick all year, but at the Nürburgring it finally all came together. Timo, Mark and myself will fight as hard as we can to stand on the middle step again in Mexico. After some holidays, including a trip to Bali, I can't wait to get back into the car. I love to take on the challenge of learning a new circuit. I have never been to Mexico, but from all I have seen the circuit looks great and the people really seem to love our sport. It will be interesting to experience racing at high altitude and I will maybe go a couple of days early to acclimatise."
Mark Webber (40, Australia): "We learnt a lot with our new high downforce package at the Nürburgring. It worked very well. Mexico is a different layout. We'll have to see how the capacity of the engines work at high altitude in terms of diesel and petrol. It looks low on grip and it will, therefore, be interesting to see what downforce level people are on. I have the impression people in Latin America particularly love sports cars. I was there with Porsche last year in December for a few dealership openings with a pretty impressive turnout. I expect to see many fans out there and think they'll really enjoy watching our cars."
Drivers Porsche 919 Hybrid number 2
Romain Dumas (38, France): "I've been to Mexico City once, but this was a long time ago in 2003 when I did my one and only Formula Atlantic race. I remember it was a little bit crazy there and the fans were great. A lot of enthusiastic people. Now I'm looking forward to discovering the new track. First in the simulator and then the real thing. I love going to new places. It will be a big challenge with the altitude. It will be different for the engine, the cooling and the downforce level and difficult for the drivers. No one has yet driven an LMP1 car 2,000 metres above sea level. Regarding the championship, I think our competition has made good progress in terms of reliability after Le Mans. To win the title, we have to be clever and do clean races."
Neel Jani (32, Switzerland): "In 2007 I was in Mexico City with the Champ Car series and in 2008 again when I was doing the A1GP series. It was still the old layout, but I think I got a feeling for the venue. We had a good crowd and a nice atmosphere. I'm sure the track surface is better now than then. I frequently go cross-country skiing and do other sports in the mountains. Therefore, I'm used to high altitude, but still I will do some special preparation with my trainer for Mexico. We want to win the championship and cannot afford to lose any points."
Marc Lieb (36, Germany): "To discover a new circuit is always super exciting, and the last time I experienced that was 2013 in Austin. I try to gather as much information as possible beforehand. The Formula One on-board footage on the web fits quite well for our prototype in terms of turning points and racing line. We also have a state-of-the-art simulator in Weissach. I like the track and I'm excited to learn how the 919 and my body will perform at high altitude. The thin air also influences the aerodynamics and, therefore, tyre wear. How this finally develops you cannot simulate a hundred per cent. We have four enjoyable races with good crowds behind us and I really hope to see many of the famous Mexican race fans next weekend."