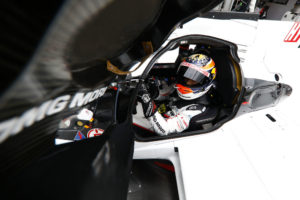 Reigning world champion Neel Jani (CH) and Porsche newcomer André Lotterer (DE) achieved pole position for the second round of the FIA World Endurance Championship (WEC) in an action packed qualifying session in Spa-Francorchamps (BE). This means a 919 Hybrid will start for the 16th time in total from P1 since its debut in 2014. Following three Toyotas on the grid, Timo Bernhard (DE) and Brendon Hartley (NZ) qualified 5th for the six-hour race on Saturday.
In the WEC, the average of the two fastest laps of two drivers counts for the qualifying result. Jani/Lotterer in car number 1 managed a time of 1:54.097 minutes. Bernhard/Hartley achieved an average time of 1:55.440 minutes for car number 2. Their respective partners – Nick Tandy (GB) and Earl Bamber (NZ) – abstained from qualifying this time. The compact 25 minute qualifying session was interrupted very early by a red flag. Due to overtaking traffic, the 919 number 2 lost its rhythm which caused problems to boost the full energy power.
The third free practice session in the morning saw the two Porsche 919 Hybrids in P4 (car number 1, 1:56.404 minutes) and P5 (car number 2, 1:58.096 minutes). This session and qualifying, took place in cool but dry conditions. For the six-hour race on Saturday, raising temperatures and sunshine are predicted. The race gets underway at 14:30 hrs (local time).
The Porsche LMP Team after qualifying
Fritz Enzinger, Vice President LMP1: "Unexpected and unbelievable – pole position in Spa! We knew our Porsche 919 Hybrids were good on the long runs but this qualifying result is a surprise and it proves what a great job the guys in Weissach did over the winter. From P1 we can now really hope for a thrilling race."
Andreas Seidl, Team Principal: "Congratulations to our crew number 1 for a well-deserved pole position. Neel and André did excellent laps. It feels nice to be back on pole again since the Shanghai race last November. Timo and Brendon had the same speed, but we couldn't manage to bring it all together. However, with P1 and P5 on the grid we are well positioned for the race and also well prepared after focussing on long-runs in the practice sessions. We will definitely see a tight and exciting race tomorrow. Both manufacturers in LMP1 operate on an impressive lap time level."
Drivers Porsche 919 Hybrid car number 1:
Neel Jani (33, Switzerland): "My first attempt already went very well but then the session was red flagged. We fitted another set of fresh tyres and on my second lap I knew perfectly well the grip level in every corner. Then André did a great lap as well. Our 919 has never been as fast in Spa as it was today and we could not have believed beforehand it would be enough to take pole position in front of the Toyotas. It is a big result for our team. I also think we are well prepared for the race. We have used the morning session to continue set-up work. Tomorrow we expect it to become warmer and it will be exciting to see what this does to us."
André Lotterer (35, Germany): "We couldn't ask for more! For the opening drivers, it was a bit hectic due to the red flag so they had to go again. Neel used the maximum potential of our Porsche and drove really fast in his second run. Over the radio, he informed me that there was a lot of grip [on the track] allowing me to push hard. I'm really happy to achieve pole on my first qualifying run with Porsche. It is very important for the whole crew but also for my self-confidence. Now we are in a very good position for tomorrow's race. Our aim has to be to win."
Drivers Porsche 919 Hybrid car number 2
Timo Bernhard (36, Germany): "Congratulations to our sister car for pole-position – it's a great result for Porsche. For car 2 there were a number of issues in qualifying which we must now investigate. In the practice sessions over the past two days we have been good in the long runs so everything is still possible in the race."
Brendon Hartley (27, New Zealand): "We were very unlucky. I had a good first lap and was looking at P1 but lost the time due to a red flag. When the session resumed, I had traffic then encountered a small systems problem, which prevented me from challenging for pole. Our car was definitely quick enough. We're confident we have a good car for tomorrow having focussed on race set-up in the three practice sessions."