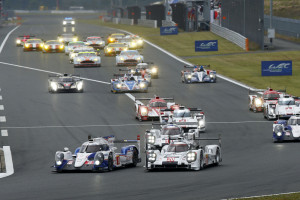 The Porsche Team celebrated its second podium finish of the season for the Porsche 919 Hybrid, while the sister car finished fourth in the six-hour race at Fuji, Japan. The fifth out of eight rounds of the FIA Endurance World Championship was a straightforward and dry race. Drivers Timo Bernhard, Brendon Hartley and Mark Webber finished third with car number 20. They were followed by their teammates Romain Dumas, Neel Jani and Marc Lieb in car number 14. Furthermore, Mark Webber set the fastest overall race lap on the 4.563 km long Fuji Speedway (1:27.759 minutes on lap 12).
How the race went for car number 14:
After the battles in the opening laps, Marc Lieb settled into fourth and was then lying third when he handed over the car to Neel Jani after 36 laps. Jani changed tyres after 73 laps and handed over the car to Romain Dumas at the end of lap 110. Dumas stopped for tyres and fuel after lap 147. Also, due to other competitors' pit stops, the car was in third when Marc Lieb jumped in again for the final stint at the end of lap 184. He came in for another splash-and-dash after 220 laps and brought the car home in P4.
How the race went for car number 20:
Mark Webber was fighting for the lead when he had to come in for an early pit stop after ten laps because of a puncture. Afterwards he did a double stint on a single set of tyres before he handed the car over to Timo Bernhard at the end of lap 84. Bernhard did a double stint as well, but he also changed tyres when refuelling after 122 laps. After lap 160 Brendon Hartley took over driving duties. He had his last stop for fuel and tyres at the end of his 197th lap before bringing it home in third.
Quotes:
Wolfgang Hatz, Member of the Board, Research and Development, Porsche AG: "We have reached the target we set ourselves for this race – we have one car on the podium and we finished the race with both cars. In the beginning we were even strong enough to fight for the lead, and in the end we have secured P3 and P4. This was a nice step forward, and we should continue this way."
Fritz Enzinger, Vice President LMP1: "This result is a great joy for us. Most importantly I am very proud of the progress we made over the course of the weekend. The first free practice on Friday was difficult, but we managed to improve in every session, had a great qualifying and this time we have also turned our performance into a good race result."
Andreas Seidl, Team Principal: "P3 and P4 are very good results for us and this is down to a great performance from all the drivers and the team – not only from the crew on site but also from the guys back home in Weissach. In our fifth race with the 919 we have, for the first time, been able to get both cars to complete the entire race distance without noteworthy problems. P3 and P4 are down to our own merits. With car number 20 the strategy worked out perfectly. Despite the early stop, the pit stop windows were ideal. This way number 20 was able to finish ahead of number 14 who's drivers did a great job too. Congratulations to Toyota for a strong one-two finish."
Drivers Porsche 919 Hybrid number 14
Romain Dumas (36, France): "Finishing in third and fourth is a good and also an important result for the team. But we won't forget there is still a lot of work ahead of us. By no way have we fully exploited the 919's potential yet."
Neel Jani (30, Switzerland): "I did a double stint. It was quite tricky to drive today and it wasn't possible to do that distance on a single set of tyres. A big problem was the rubber on the track. The tyres pick up the marbles as soon as you leave the racing line to lap other cars, and then you can't get rid of that sticky stuff. The longer the race lasted, the worse it became."
Marc Lieb (34, Germany): "I was the start and the finish driver in our car. The opening lap was pretty tricky with lots of position changes. I managed to stay out of trouble, and later I was also careful when lapping the GT cars. The tyre degradation wasn't as massive as expected, but still too much to do double stints. However, the Porsche 919 Hybrid has definitely improved."
Drivers Porsche 919 Hybrid number 20
Timo Bernhard (33, Germany): "I had a trouble free double stint. However, because of our early tyre change, I was out of the normal rhythm and basically racing against the clock instead of having someone in sight to fight. That's not really easy. The pick up on the tyres was tricky. We have achieved our second podium finish by our own merits – there was nothing more we really could have asked for. I am absolutely happy for our mechanics and engineers."
Brendon Hartley (24, New Zealand): "I really enjoyed the race. It is a great feeling to step onto the podium as a Porsche works driver for the second time. Despite the puncture shortly after the start, we made the most out of the situation and also tried to do double stints with the tyres. I am really proud to have Mark and Timo as my teammates. All of us – the drivers as well as everybody in the team – have a steep learning curve this season. We have to continue like this, and then we might be able to fight for our first race win soon. The car was really good. Here we made two steps forward."
Mark Webber (38, Australia): "I had a good start and was able to put pressure on the Toyota, but then a punctured rear left tyre hurt our race. We then tried to do a double stint with the next set of tyres, but lost some time by doing this. The puncture was cruel, but Timo and Brendon did a great job to get the car back into third."