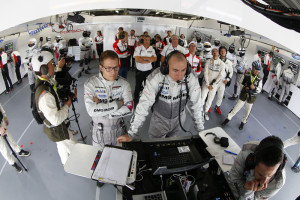 The two Porsche 919 Hybrids will start the six-hour race at Fuji, Japan from second and third on the grid. This means the Porsche Team has managed to get onto the front row for the fourth time in what is only its fifth race with the innovative and complex Le Mans Prototype. Round five of the FIA World Endurance Championship will get underway at 11am local time on Sunday.
As usual in the WEC, qualifying was split into classes. The LMP1 and LMP2 classes shared 25 minutes on track. Two drivers from each car had to do at least two timed laps each. The average from the four best lap times determine the grid positions. Neel Jani and Marc Lieb took over qualifying duties in car number 14, while Timo Bernhard and Mark Webber shared the number 20 Porsche 919 Hybrid for the session. In the end the average lap time of car number 20 (1:26.929 minutes) was only 0.043 seconds away from pole position. The average lap time of the third placed number 14 sister car was 1:27.306 minutes.
Earlier in the morning, free practice three had also been a smooth session for the Porsche Team seeing car number 20 coming second (1:27.300) and car number 14 finishing third (1:27.764), covering 26 and 31 laps respectively.
Quotes:
Wolfgang Hatz, Member of the Board, Research and Development, Porsche AG: "Front row was our target today and we have made it. The gap to pole position is only four hundredths of a second, and with the second Porsche 919 Hybrid we are third on the grid. This result is very much okay for us and it was a good fight with the fast Toyotas."
Fritz Enzinger, Vice President LMP1: "It has been a very exciting qualifying in which we had been fastest until the very last moment. Second and third on the grid is a superb result, and it was an amazing team effort how we have improved here session after session since the first free practice on Friday."
Andreas Seidl, Team Principal: "Coming second and third in qualifying is a another excellent result for us. We are here for the very first time and on Friday it became obvious what this means, as we were struggling quite a lot. In qualifying the team and the drivers again did a perfect job. Each lap was spot on. We knew this was the case and we stuck to our strategy instead of sending the cars out again. The reason for this was to save the tyres for the first stint of the race, as this has to be on the same set you qualify with. Tomorrow we will see if we can keep up that performance in the race."
Drivers Porsche 919 Hybrid number 14
Neel Jani (30, Switzerland): "After free practice we made a lot of changes to the car, which have been very positive. Indeed the car had more grip than I expected. This shows that we are definitely making progress."
Marc Lieb (34, Germany): "We are continuously improving. In free practice three the car felt significantly better than on Friday. On my first qualifying lap I lost a bit of time under braking and on the second one I had some traffic, but overall it was okay."
Drivers Porsche 919 Hybrid number 20
Timo Bernhard (33, Germany): "Instantly I was quite happy with how it went, although I had to overtake other cars on each of my timed laps. After a cool down lap in between, on my second fast lap the tyres were not right up to temperature, but overall it worked alright."
Mark Webber (38, Australia): "Qualifying was a great recovery by the team since we struggled a bit with the car's balance yesterday. We have managed to improve the car overnight and we were able to learn from the sister car as well. Our qualifying laps have been very good and pretty much the maximum we are able to achieve. Timo did a great job, so it all worked out really well for us. The Toyota is just a bit too strong for us, but this is fair enough as we are in our first year. Qualifying is only a small bit of endurance racing, but nevertheless we are very happy to be on the front row."